Check out the New Orleans area basketball top 10 rankings for Jan. 27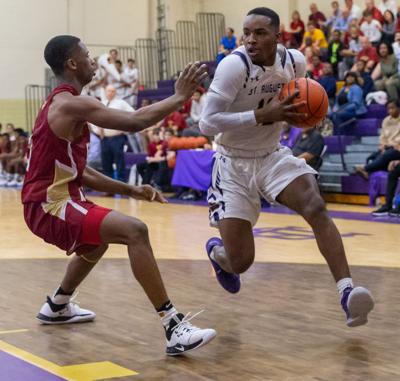 Boys basketball area rankings (through games played Saturday):
1. St. Augustine (22-1): The first round of District 9-5A play ends Tuesday against Jesuit. The second round begins Friday at home against the same Holy Cross team that won last week against Brother Martin.
2. Brother Martin (21-4): The Crusaders stay at No. 2 despite the 74-71 loss Friday at Holy Cross. Their chance to avenge that loss will come in February. Next is a home game Tuesday against Shaw.
3. Bonnabel (15-6): A strong Edna Karr team gives Bonnabel a final nondistrict test Tuesday before the Bruins begin 8-5A play Friday against Higgins.
4. De La Salle (16-5): The Cavaliers won a pair of 11-3A games last week by more than 40 points against Haynes Academy and Thomas Jefferson.
5. Booker T. Washington (21-8): The Lions play Thursday at M.L. King and Friday at Landry-Walker.
6. Sophie B. Wright (14-8): The Warriors lost last week against defending 3A champion Madison Prep and against Class 5A Walker. The next games are Thursday against Douglass and Friday against Karr.
7. Holy Cross (16-9): The Holy Cross résumé includes wins against Brother Martin and Newman and losses to St. Augustine and De La Salle (twice).
8. Newman (16-8): The Greenies play Monday against De La Salle. Next is a home game Friday against Destrehan.
9. Hahnville (16-8): The District 7-5A leading Tigers play Tuesday at Destrehan and are home Thursday for a nondistrict game against Country Day, which has recent wins against Newman and Karr.
10. Carver (16-8): The Rams are coming off a 57-56 loss at McMain.
Girls basketball area rankings (through games played Saturday):
1. John Curtis (17-3): The next three games are against three of the four schools listed directly below Curtis in these rankings: Wednesday against Easton, Thursday against Dominican and Monday against Mount Carmel. All are home games.
2. Karr (21-4): Last week, the Panthers defeated Mount Carmel 36-29 and Ursuline 57-47. Up next are a string of District 10-4A games. The first one is Thursday against Helen Cox.
3. Mount Carmel (19-6): The Cubs won in overtime last week against a Ponchatoula team that has 19 wins. Next are games Thursday at home against Chapelle and Monday at Curtis.
4. Dominican (17-6): Can Dominican avenge last week's loss against Curtis? They will play again Thursday in the second round of District 9-5A play.
5. Easton (13-9): Easton has a nondistrict game Wednesday at Curtis. The most recent nondistrict game for Easton was an impressive 53-38 win against Karr.
6. Hahnville (19-4): The surging Tigers have won seven in a row and are undefeated in league play. The second round of District 7-5A play begins Tuesday at Destrehan.
7. Booker T. Washington (17-11): This team has wins against Karr and Dominican on its résumé. Next challenge comes Thursday against M.L. King.
8. Northshore (15-7): Northshore won Friday against Covington 85-36. Coming Tuesday is a chance to avenge a 48-47 loss Dec. 20 against Slidell.
9. M.L. King (13-3): M.L. King plays Thursday at home against Booker T. Washington.
10. Chalmette (16-5): The home game Thursday against Bonnabel could be for first place in District 8-5A.